The city of Oulu in Finland has the honour of closing the 2022-23 UIAA Ice Climbing season on the weekend of 25-26 February.
It will be a true festival of ice climbing, organized in collaboration with the Finnish Climbing Association and the Climbing Club of Oulu, with both the concluding round of the UIAA Ice Climbing European Cup season and the annual UIAA Ice Climbing World Youth Championships taking place.
Oulu has become a regular host of UIAA Ice Climbing events having previously hosted both European and World Youth level events.
"It is great to back in Oulu for the last event of the season, the organising team always do an amazing job of putting on a great show and the athletes always have a good time," explains UIAA Sport Events Coordinator Rob Adie. "Yet again they have stepped up by taking on not one but two of our standout events this season. We are looking forward to a great competition and an amazing season finale!"
European Cup: As per the previous three rounds of the European Cup season held in Slovakia, the Czech Republic and Scotland, this will be a lead only event. Athletes from 17 countries are expected to participate with the qualifications to be held on Saturday 25 February and finals on Sunday 26 February (livestream details below). Among the star turns are the two European Cup Tour leaders, Virgile Devin (France) and Marianne van der Steen (Netherlands).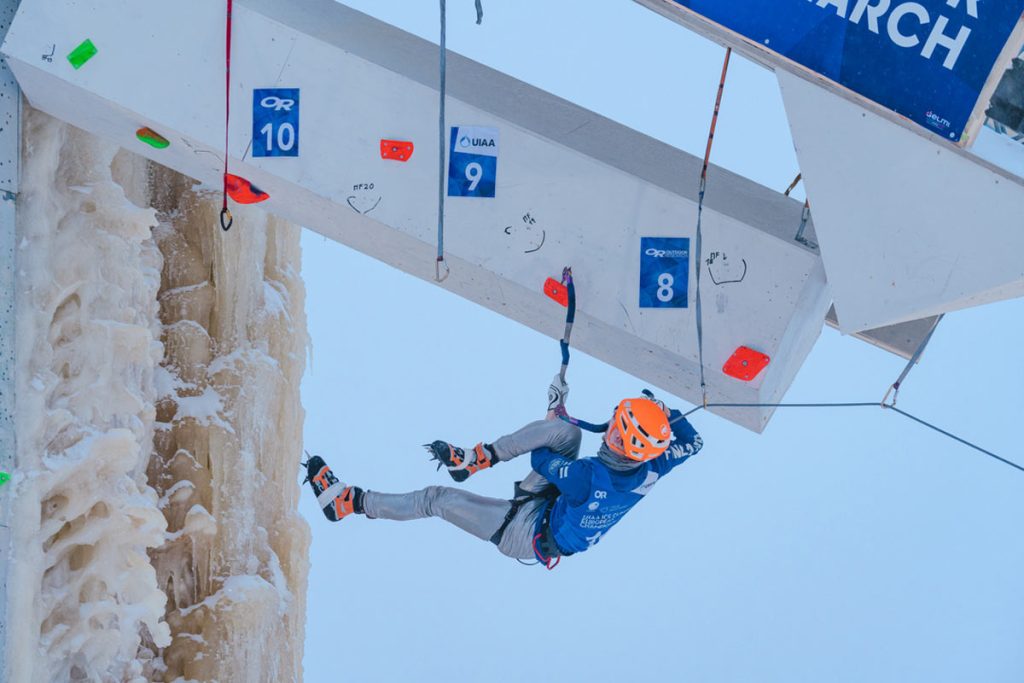 A competitive team from Finland features World Tour regulars Enni Bertling, Mira Alhonsuo and Pauli Salminen. Other leading World Tour-level athletes in attendance include Eimir McSwiggan (Ireland), Lea and Lorena Beck (Liechtenstein), Dennis van Hoek (Netherlands), Olga Kosek (Poland) and David Bouffard (Romania). At least four athletes will represent the following countries: Czech Republic, Finland, France, Great Britain, Liechtenstein, Poland, Spain and the United States.
In terms of the standings, van der Steen is almost certainly guaranteed to win the women's European season crown. Kosek, currently in third will seek to overtake Maja Sustar Habjan in second. The latter is not currently registered to compete in Oulu. The men's contest is closer with van Hoek lying just five points behind Devin. Another French athlete, Basile Fetet, has an outside chance of winning overall and currently sits in third.

Sunday 26 February, 1400 local time (1300 CET)
World Youth Championships: As is tradition, the World Youth Championships will be divided into U16, U19 and U21 categories with both speed and lead events. Qualification starts on Friday 24 February and all finals are on Sunday 26 February (see livestream details below). Traditionally these events are wide open and provide the opportunity for many athletes to taste their first experience competing in a world level environment. Currently 11 national teams have registered youth athletes with a number having already featured in World Cup events. With six athletes Switzerland is offering an opportunity to its next generation of climbers having seen a number of athletes make the successful pathway from youth to senior events in recent seasons. Likewise, the emerging team from Mongolia has six athletes registered. Equally impressive is the representation from Spain (7 athletes) and host country Finland (16 athletes). Liechtenstein's Lorena Beck is the only athlete to have podiumed at a World Cup event. She finished second in the speed competition in Champagny-en-Vanoise in January.

Sunday 26 February, 1100 local time (1000 CET)

Sunday 26 February, 0800 local time (0700 CET)
The event programme for Oulu can be found here.
Live results will be available here (European Cup , World Youth Championships).
The registration list can be found here (European Cup, World Youth Championships).
Event website 
Photos from 2022 UIAA Ice Climbing European Cup in Oulu (credit Oskari Pajunpää)
TITLE SPONSOR UIAA ICE CLIMBING WORLD TOUR