The winners of the lead and speed competitions at the second UIAA Ice Climbing World Cup of the 2023 season have been confirmed.
Triumphing in Champagny-en-Vanoise in the French Alps were:
Lead
Men: 1.Louna Ladevant (FRA, main photo), 2. Benjamin Bosshard (SUI), 3. Heeyong Park (KOR)
Women: 1. Woonseon Shin (KOR), 2. Petra Klingler (SUI), 3. Eimir McSwiggan (IRL)
Speed
Men: 1. Myungwook Yang (KOR), 2. Mohsen Beheshti Rad (IRN), 3. Mandakhbayar Chuluunbaatar (MGL)
Women: 1. Vivien Labarile (SUI), 2. Lorena Beck (LIE), 3. Olga Kosek (POL)
World champion Louna Ladevant provided the host country with a moment of joy in winning the men's lead competition. South Korea's Heeyong Park, winner in Cheongsong last week, took bronze to retain his lead of the overall standings. In the women's event Woonseon Shin of South Korea and Switzerland's Petra Klingler are now tied on the same number of points having both claimed a gold and a silver. In Champagny, it was Shin who prevailed.
In the speed event, Myungwook Yan became the first South Korean male to win a speed World Cup gold and in the process world champion and last weekend's winner Mohsen Beheshti Rad has to settle for silver. In the wide open women's event, Switzerland's Vivien Labarile claimed gold ahead of two other European athletes, Lorena Beck and Olga Kosek.
A full report will follow on Monday 23 January.
How to follow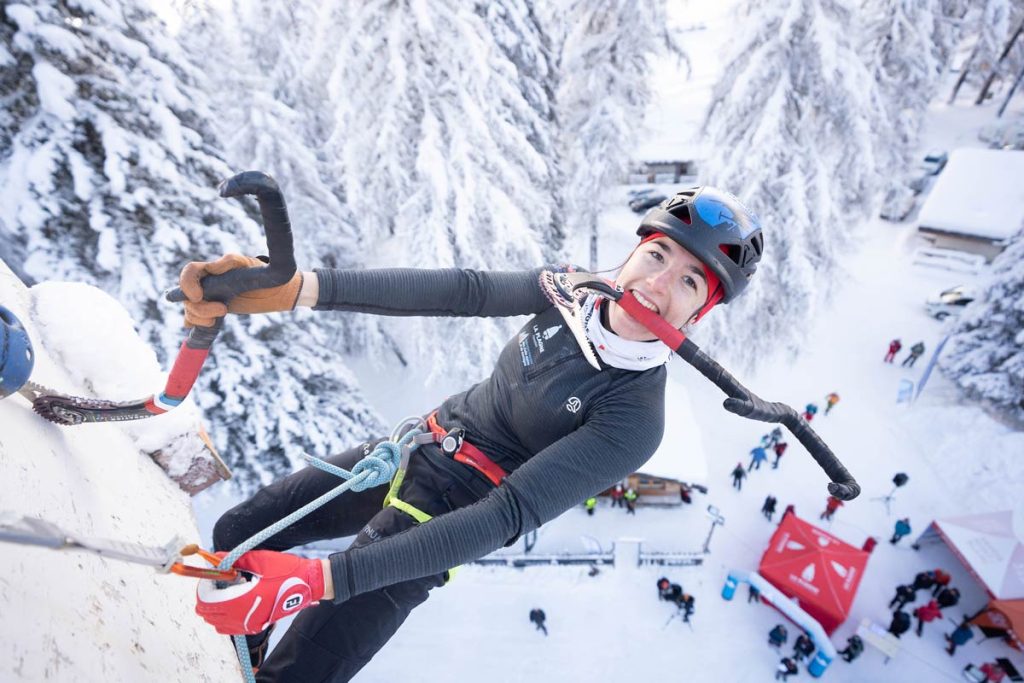 The semi-finals of all lead events, and speed finals, were livestreamed on the UIAA YouTube channel and also broadcast on the UIAA Facebook channel.
Photos from all events, cleared for editorial use, will be posted to the UIAA Flickr channel.
The UIAA Ice Climbing Instagram channel will offer short-form video highlights and other enticing content throughout each competition weekend.
A press review from each UIAA Ice Climbing World Cup will be published after each event. Subscribe here to review news releases.
Live results & registration lists from Champagny-en-Vanoise and other information can be found on the UIAA Ice Climbing website. The event programme is here.
The third and final event of the World Cup season will be held from the 26-28 January in Saas-Fee, Switzerland.
Main photo: 2023 UIAA Ice Climbing World Cup in Champagny-en-Vanoise. Credit: UIAA/Nils Paillard
TITLE SPONSOR UIAA ICE CLIMBING WORLD TOUR