The UIAA, in conjunction with the Czech Mountaineering Association and Hudy Climbing Gym, is pleased to offer all athletes a three-day training camp in Brno, Czech Republic from the 21-23 October 2022. The training camp venue is the site of the second UIAA Ice Climbing Continental Cup 2022/23 in Brno. This camp will provide athletes wanting to train and tune up for the upcoming season whether it be for the World Cups or European Cup series. It will also be a great opportunity for athletes to come together to share training ideas and build the ice climbing community ahead of the 22/23 season.
Date of training camp: 21-23 October 2022
Venue: Brno – Dry tooling climbing wall – Czech Mountaineering Association and climbing club Lokomotiva Brno on the un-finished German highway under Brno dam.
Venue Address: Brno, Přehradní street
Provisional Schedule of training camp
20 October – Arrivals
21 October – 09:30-16:30 – training on the structure on routes – D6 – D12
– 18:30 – 21:30 – strength and conditioning training – Hudy Climbing Gym
22 October – 09:30-16:30 – training on the structure on routes – D6 – D12 – routes adapted to climbers requirements
– 18:30 – 21:30 – climbing – Hudy Climbing Gym
23 October – 09:30 – 16:30 – Mock competition with 4 routes
24 October – Departures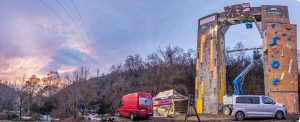 Accommodation suggestion
Penzion Smile:  – webpage in Czech, but contact them by e-mail and they will answer in English
Costs
Training Camp – 80 Euros per person – payment to be made to camp director on first day
Accommodation – to be arranged by each athlete
Registration – if you would like to attend the camp, then please complete the form in the link by 19 October.
Contact information
Mgr. Radek Lienerth – director of training camp
T: +00420603810600
E: zoban@seznam.cz