The 2022-23 UIAA Ice Climbing World Tour, partnered by Outdoor Research, comprised eight events held in seven countries. This included a World Youth Championships, three World Cups and four European Cups. Below are the UIAA's top ten moments from the season.
THE RETURN OF HEEYONG PARK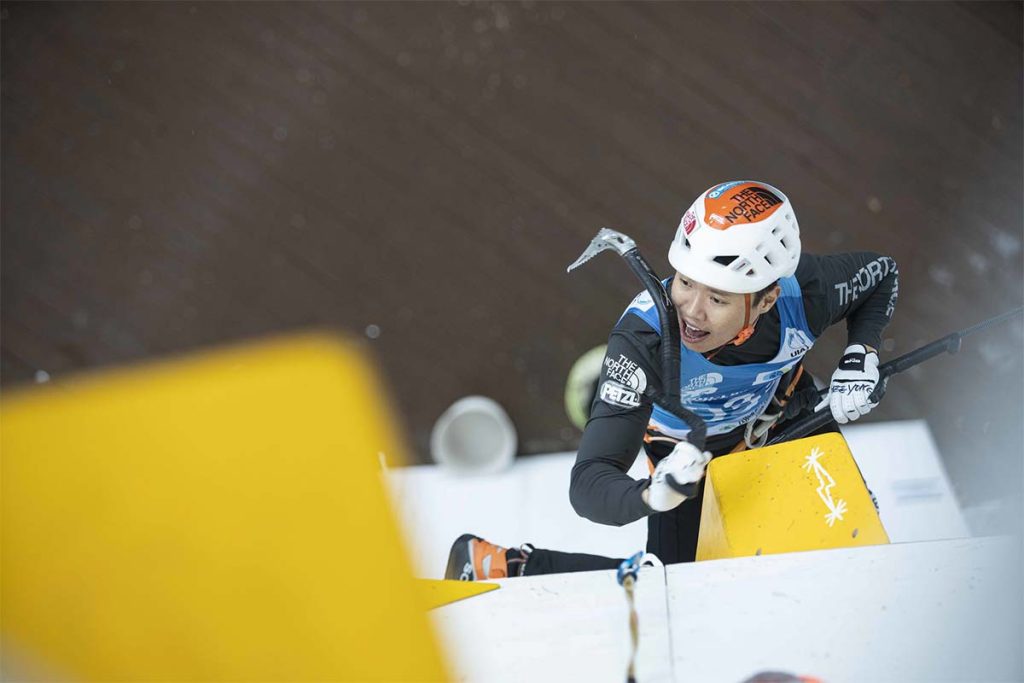 Going into January's UIAA Ice Climbing World Cup in Cheongsong, Heeyong Park, legend and veteran of the UIAA Ice Climbing World Tour, had not competed at an international level event for three years. His last podium was in China in 2020. His last gold medal dated back to January 2017 when he triumphed in Rabenstein, Italy to take the World Tour series. Six years later in his home World Cup in Cheongsong, the 40-year-old turned back the clock. Laying down a marker with the best performance in qualification and second place in the semi-final, his experience of the Cheongsong wall proved crucial as he climbed highest in the eight-athlete final to take gold. This was no chance result. Park backed up his performance in the two European World Cups taking a bronze in France and fourth place in Saas-Fee to finish second overall in the World Tour rankings.
EMERGENCE OF MONGOLIAN SPEED CLIMBERS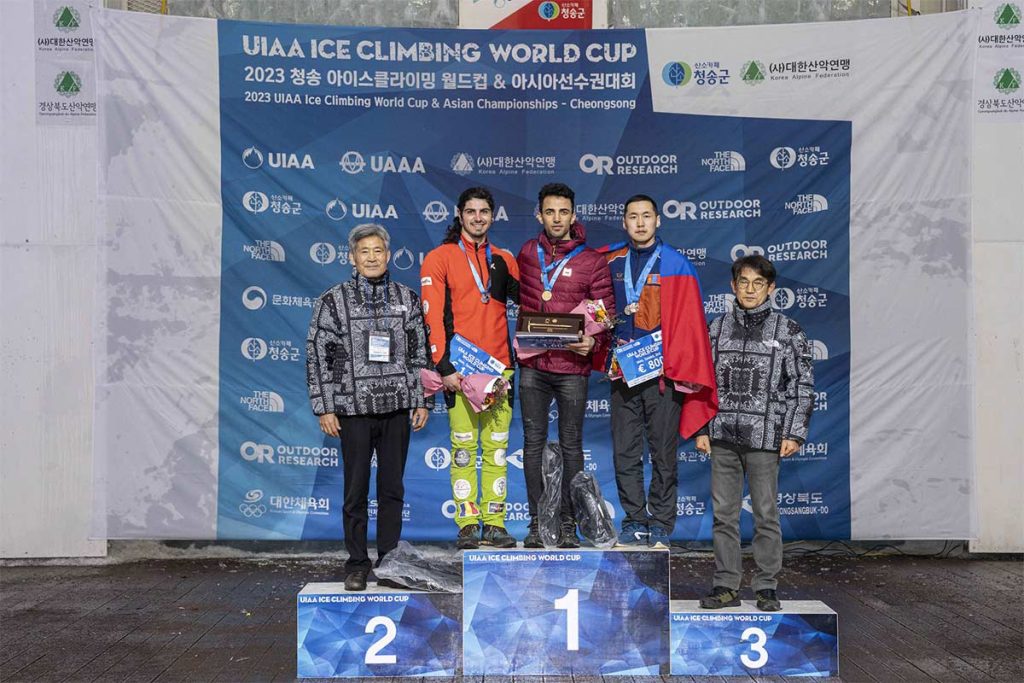 A number of nations have stepped up their funding and commitment to providing pathways to young ice climbers in recent years. Lichtenstein, Spain and Switzerland are all strong examples. As is Mongolia. The country's climate lends itself to all year training and the Mongolian federation has regularly sent athletes to international training camps. Counting over ten athletes, Team Mongolia was one of the largest at this year's competitions. In the first World Cup in Cheongsong, 27-year-old Kherlen Nyamdoo took bronze. It was something of a redemption story. In the last full World Cup season, Nyamdoo (above, far right on top podium) twice had the frustration of finishing fourth, including in Cheongsong. A week later, Nyamdoo's teammate Mandakhbayar Chuluunbaata, 23, claimed bronze in the French Alps. The Mongolian team failed to make it onto the podium in the final event in Saas-Fee but both Nyamdoo and Davaadorj Baasandorj made the top six, showing there is significant strength in depth. Closing the campaign, Munkhbaatar Batzorig secured a silver medal at the World Youth Championships in Oulu, Finland. Next season they should be even stronger.
A FIRST WORLD CUP MEDAL FOR OLGA KOSEK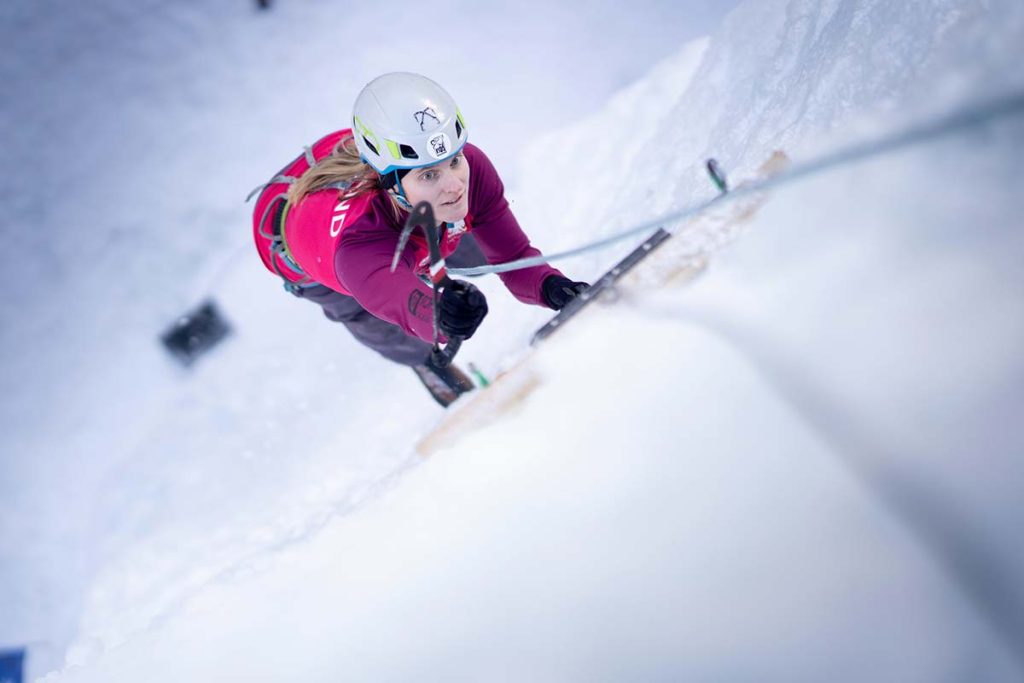 It proved to be an excellent season for one of the most ever-present athletes in recent years, Poland's Olga Kosek. Emerging onto the World Tour stage in 2014, she has competed in every season since, often combining the demands of both speed and lead events. Each year her results have improved. Until this season her best World Cup placing was fourth in China in 2019. However, excellent results on the European circuit over the past few years have seen her gain greater experience in competing in finals. This included European Cup gold medals in Slovakia in 2021 and a silver in Glasgow this year. These were both in lead competitions. Her wait for a World Cup medal came in this year's speed competition in France where a time of 13.93 enabled her to defeat local climber Marion Salmon Thomas to claim bronze and make that first step onto a world level podium.
SNAPPED AXE TO TOP OF THE PODIUM: SIGN OF A CHAMPION
Since emerging on the scene in 2019, Louna Ladevant has become the dominant male lead climber on the circuit. He won the last complete World Tour in 2020 before the disruption of the pandemic and followed that up with a European Championships success in 2021 and as World Champion in Switzerland in 2022. This year marked an opportunity to defend the World Cup circuit title from 2020. It started inauspiciously. A snapped axe in the Korean Alps led to a costly fall in the final. It compounded a frustrating weekend where his equipment and luggage never arrived. He responded in the style of a champion, dominating his home World Cup in France and then winning another gold medal in Saas-Fee to take the World Tour title.
PETRA KLINGLER VERSUS WOONSEON SHIN
Arguably the most compelling sporting rivalry of the season came in the women's lead competition. Petra Klingler (right), the reigning World Champion from Switzerland, versus Woonseon Shin (left), former World Champion from South Korea. Going into this season, Klingler, Tokyo 2020 Olympian, was a known force having won her World Championship title in 2022. The form of Shin, 42, was unclear. She had not featured at a World Cup level event since 2020. However, like Park she proved class is permanent. In her home World Cup in Cheongsong, a silver medal announced her return. Klingler went one better though and claimed gold medal. It seemed a pattern was set for the season. However a week later, the tables were turned. In Champagny, Shin topped the route to take her first gold medal since Changchun in 2020. There Klingler, whose path to the final was jeopardised by a fall in the semi-finals, won silver. It set up a dramatic showdown in the season's final World Cup in Saas-Fee. Klingler would be buoyed on by a partisan crowd. However, ice climbing can be a cruel sport. One miscalculation, stubborn hold or tool failure, can compromise an entire competition. For Shin, an uncharacteristic fall in the semi-finals denied fans the opportunity for an epic final. Klingler would eventually take bronze to win the overall World Cup series.
THE BECK SISTERS AND THE RISE OF TEAM LIECHTENSTEIN
Liechtenstein is blessed with good climbing facilities and access to the Alps. However, as a small country in terms of population it has begun exceeding expectations in terms of competition ice climbing. The venue in Malbun has hosted a number of UIAA sanctioned competitions including the World Youth Championships in 2018. It's a family story with Team Liechtenstein's brothers Andreas & Florian Gantner slowly emerging as top ranked climbers. Also making waves are the Beck sisters. Lorena Beck (left photo), just 17, became the only athlete this season to podium at both a senior and youth event. She won silver at the France World Cup in speed before dominating the U19 competition at the UIAA Ice Climbing World Youth Championships in Finland with golds in both disciplines. Lorena's older sister Lea Beck (right, centre on podium), 22, also enjoys both disciplines. She claimed the team's most prestigious success, speed gold at the World Cup in Saas-Fee. Finally a mention for Konstantin Wille, who added to the country's medal haul with bronze in the men's U19 competition at the World Youth Championships.
MOHSEN BEHESHTI RAD: FASTEST ON ICE
Mohsen Beheshti Rad is an experienced ice climber. At 38 he is at his peak. And this season it showed. Two golds (Cheongsong, Saas-Fee) and a silver (Champagny-en-Vanoise) saw him dominate the speed standings. This followed his world championship success in 2022. His rise in recent years has been impressive. It was compatriot Mohammad Reza Safdarian who first emerged as the leading Iranian ice climber. Safdarian won the country's first gold medal when claiming the lead event in Rabenstein in 2018. Whilst Safdarian is equally comfortable on a lead or speed wall, Rad is a speed merchant. His gold medal time of 7.60 seconds in Saas-Fee was one of the great climbs of the season.
A FIRST TRIP TO THE UNITED KINGDOM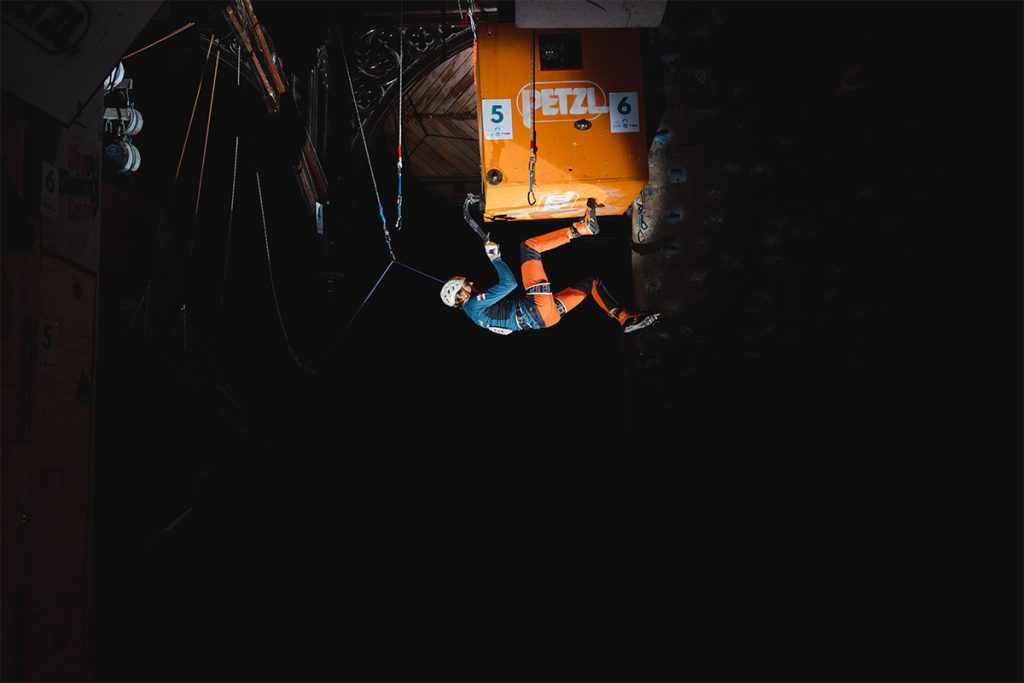 The UIAA Ice Climbing World Tour is always looking to expand the reach of the sport. Expansion in North America, Asia – and eventually South America – is an ambition. This year the European circuit grew with a first trip to the United Kingdom. More specifically the city of Glasgow played host thanks to the organising support of the British Mountaineering Council and the Scottish Dry-Tooling Club. An excellent event saw the participation of 62 athletes from 16 countries.
SPAIN'S COMMITMENT TO YOUNG ICE CLIMBERS REWARDED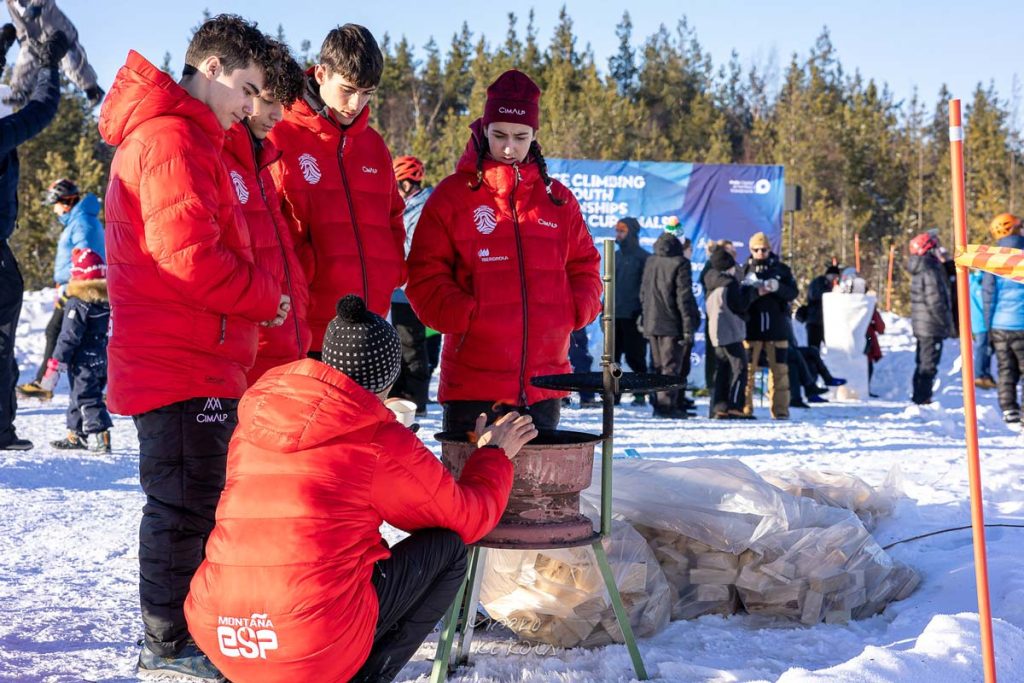 A found member of the UIAA, FEDME is one of the federations who have recently bolstered their commitment to young climbers creating pathway programmes for young ice climbers as part of that service. At a senior level, the impact is already visible. Four Spanish athletes competed in the final World Cups in France and Switzerland with Javier Cano making the top ten in Saas-Fee. However, at youth level the rise is even more impressive. At the UIAA Ice Climbing World Youth Championships in Finland, Spain took seven athletes and was rewarded with more medals after already securing silver and bronze at the 2022 UIAA Ice Climbing World Youth Championships (male lead U19). In 2023, at the men's lead U21 event, Henoc Garcia Montoya took bronze. It was even better in the U19s with Jorge Veige Rodriguez claiming the country's first ever gold. A third medal was sealed in the women's U16 event with Maite Vila Lopez winning bronze.
IMPRESSIVE CLIMBING: MARIANNE VAN DER STEEN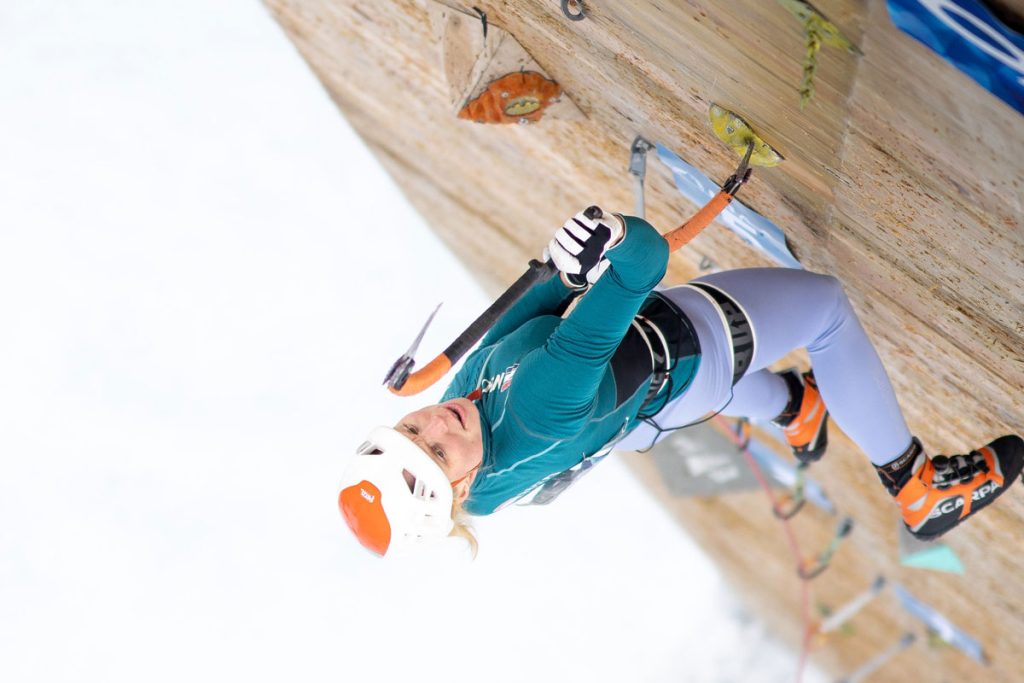 Few athletes competed as hard as Marianne van der Steen this season. The Dutch athlete was the dominant force on the European Cup circuit taking three gold medals (Slovakia, Scotland, Finland) and a silver (Czech Republic). In between the four European Cup she impressively performed on two fronts in the World Cups, finishing fourth on the lead leader board and fifth in speed. Two World Cup fourth places in lead (France and Switzerland) denied her the podium place that would have capped a thoroughly impressive season of commitment, dedication and skill. Credit also to Van der Steen's compatriot Dennis van Hoek who featured in as many events and finished second in the European Cup standings.
Photos courtesy of UIAA photographers: Luke Briggs (Glasgow), Rhea Kang (Cheongsong), Kaspar Kellerhals (Saas-Fee), Marko Kerola (Oulu), Nils Paillard (Champagny-en-Vanoise)
TITLE SPONSOR UIAA ICE CLIMBING WORLD TOUR