The UIAA Ice Climbing European Cup season is set for a grandstand finale in Oulu, Finland in mid-February.
Round 5, the penultimate of the season, took place on 22 January in Malbun, Lichtenstein, the smallest country to ever host a UIAA Ice Climbing event.
Expertly organised by UIAA member federation Liechtensteiner Alpenverein LAV, the lead-only competition welcomed 57 athletes, 22 female and 35 male from 14 countries.
Women: Switzerland's Sina Goetz made it two out of two in Malbun, winning the women's competition. Having also taken gold in the season opener in Bern, Goetz maintained her 100% record this season, an impressive marker ahead of next weekend's UIAA Ice Climbing World Championships on 'home' territory. Goetz topped the final route quicker than compatriot Petra Klingler who made an impressive return to ice climbing competition having taken part in the Tokyo 2020 Sport Climbing event. Another Swiss woman, Vivien Labarile, claimed bronze to ensure that Team Switzerland making a strong statement ahead of next weekend. In the contest for the overall European season crown, Enni Bertling (358 points) leads Marianne van der Steen (327) of the Netherlands. They will battle it out in Bertling's home country of Finland in a few weeks for the European season title.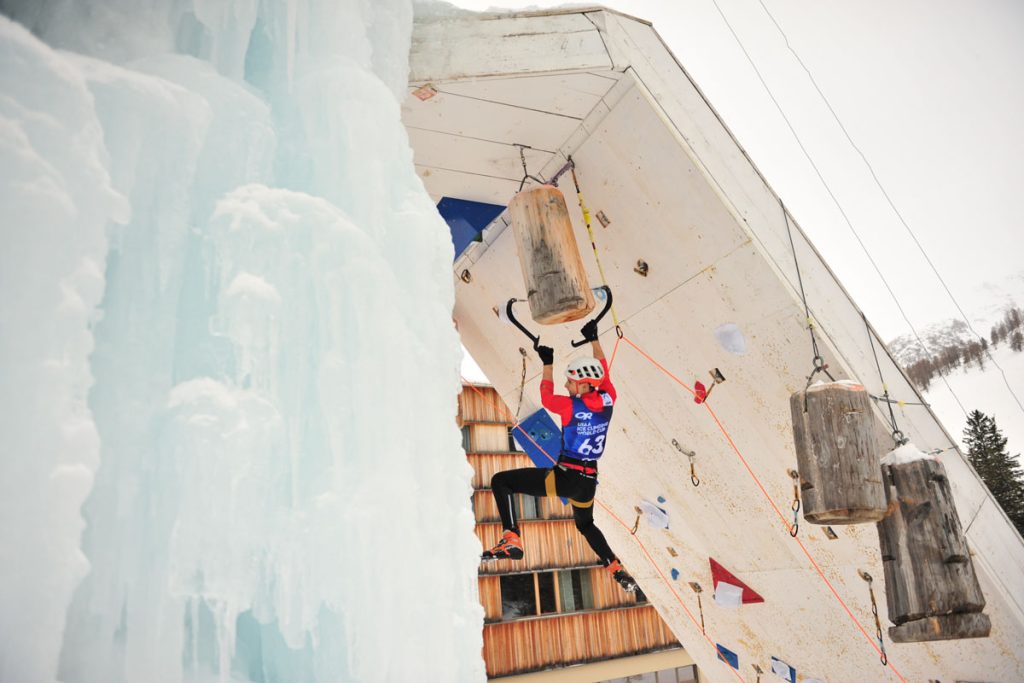 Men: Through Nikolay Primerov (silver) and Jonathan Brown (bronze), Switzerland claimed another two medals in the men's competition. However, French youngster Louna Ladevant dominated the competition to claim gold. Ladevant is the reigning UIAA Ice Climbing World Tour champion in lead, a crown he won in Saas-Fee in 2020. Seventh place for Ladveant's compatriot Virgile Devin to extend his lead in the season rankings over Dennis van Hoek of the Netherlands. Devin holds a commanding 77-point lead going into the event in Oulu.
A replay of the livestream can be found below. Photos (credit: UIAA/Remo Gstöhl) from the event are available here. Results can be found on the UIAA Ice Climbing website. Results, taking into account the performance of non-European athletes, can be viewed here (men, women).
UIAA ICE CLIMBING WORLD CHAMPIONSHIPS AND WORLD YOUTH CHAMPIONSHIPS
Next weekend witnesses the pinnacle moment of the 2021-22 UIAA Ice Climbing Season partnered by Outdoor Research. Saas-Fee, in the Swiss Alps, will host the UIAA Ice Climbing World Championships and World Youth Championships, the first time that the two events have taken place at the same time. Both lead and speed disciplines will be staged. A preview press release including livestream details will be available on Wednesday 26 January.
The sixth and final round of the European Cup season in Oulu, under the organisation of FINICE, takes place from 18-20 February.
TITLE SPONSOR UIAA ICE CLIMBING WORLD TOUR