The Slovak Championship took place last weekend at the Laskala climbing gym in Žilina, Slovakia. 22 men and 6 woman took part and had 3 qualification routes to tackle. There was also the opportunity for drytooling beginners to try their hand at the sport on the vertical wall at the gym.
The athletes thought the routes were "quite hard, but really good fun!". In the finals we had 3 men were tied for 1st place, having been able to climb to the same spot on the route, so the qualification results were used to split them up – see the male results here.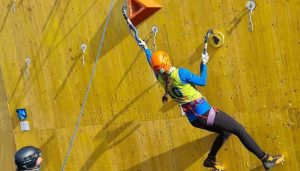 It was a similar situation in the female final with Olga Kosek and Maja Šoltesova being tied for 1st position and having to be split by their qualification results – for the female results click here.
It was a great competition with thanks to the Routesetter Vlado Masny and climbing club Šarpoš Žilina, as well as sponsors of the event – Gilmonte, Mammut, Alphasport, Slnko na skalách, LaSkale, TP Holds and TP Chyty.