A dramatic and pulsating weekend of ice climbing in the Swiss Alps saw both the final World Cup winners of the 2023 UIAA Ice Climbing season, and the World Tour winners themselves, crowned.
Over a hundred athletes from 19 countries took part in the Saas-Fee World Cup. The event, organised in partnership with the Swiss Alpine Club and the host team, led by Kurt Arnold and Dario Andenmatten, has been a permanent feature of the UIAA Ice Climbing World Tour since the early 2000s.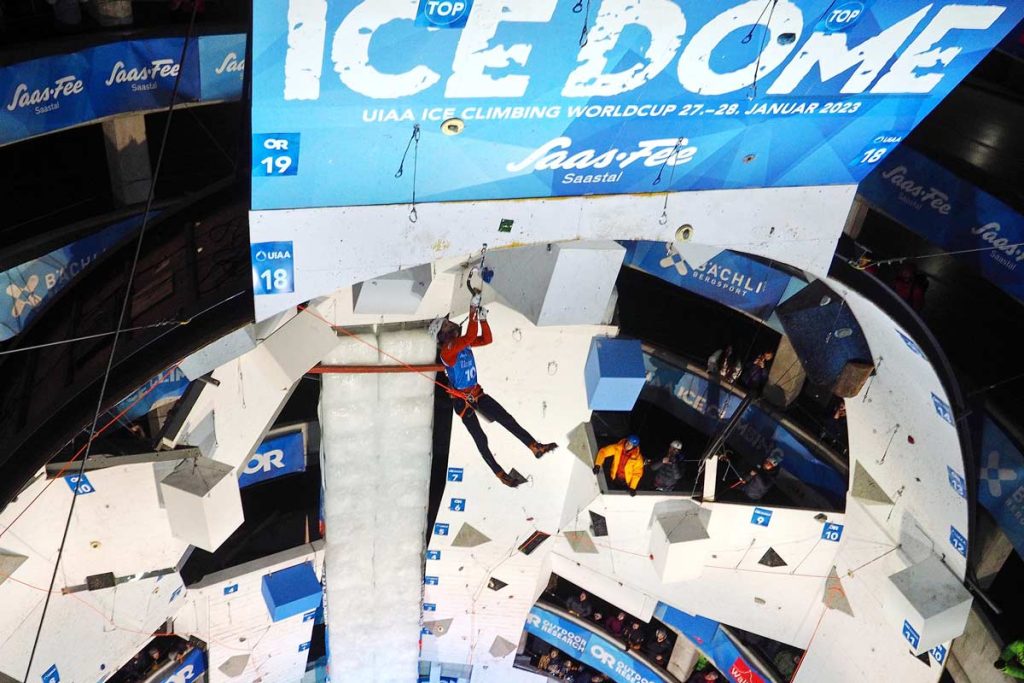 Men's Lead: Reigning World Tour winner and World Champion Louna Ladevant (photo above) claimed both the Saas-Fee World Cup gold and World Tour victory with a virtuoso performance as the final athlete to climb.
With the clock ticking he surpassed the height of Swiss athlete Benjamin Bosshard to exert his dominance in the discipline. Ladevant's climb was one of grace and supreme confidence. He was just seconds away from topping the route and before his celebratory victory dive he was able to share an embrace with Yannick Glatthard, former UIAA Ice Climbing gold medallist in Saas-Fee and one of the routesetters this year. Younggeon Lee claimed bronze. Lee's South Korean teammate and World Tour leader going into the weekend, Heeyong Park, had to settle for fourth place and second overall in the World Tour standings.
Overall World Cup standings: 1. Louna Ladevant (FRA) 251 points, 2. Heeyong Park (KOR) 220 pts, 3. Benjamin Bosshard (SUI) 182 pts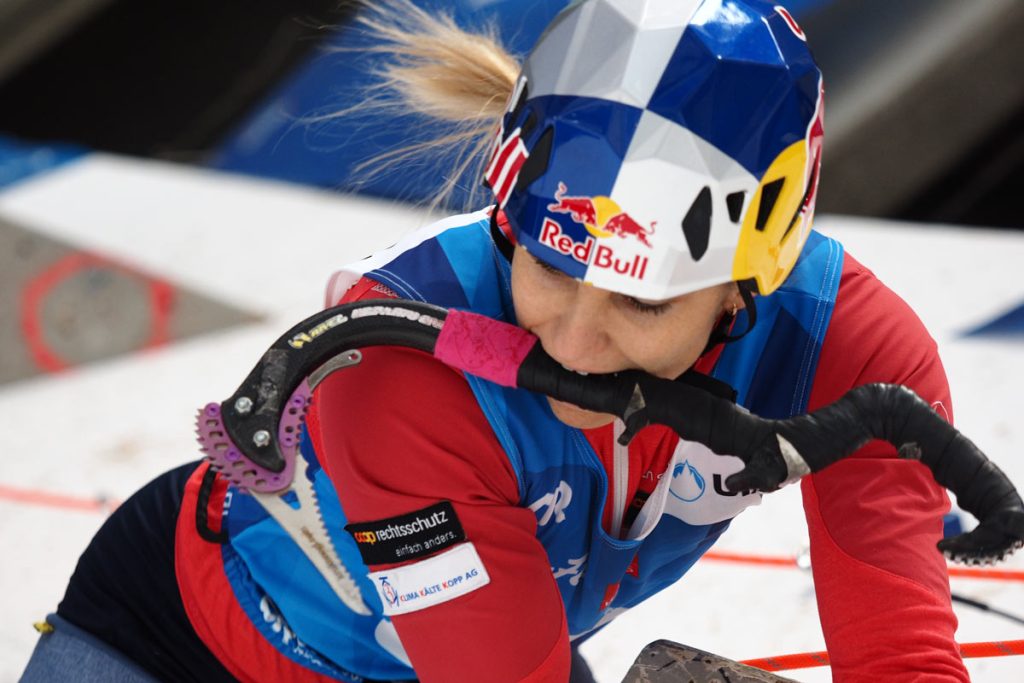 Women's Lead: A fall early in the semi-finals cost Woonseon Shin both a place in the final and a chance to win the World Tour crown. At that point Swiss Olympian Petra Klingler (above) became the clear favourite to add the World Tour title to her World Championship success in 2022. A third place in the final sealed Klingler's crown however it was teammate Sina Goetz (main photo) who took Saas-Fee gold ahead of Marion Salmon-Thomas, the only athlete to win a medal in both lead and speed. Like Louna Ladevant, Klingler has been the dominant lead climber over the past few seasons. For Goetz a first World Cup win in Saas-Fee was just rewards for an excellent season and for the progress she has made in her development.
Overall World Cup standings: 1. Petra Klingler (SUI) 245 pts, 2. Sina Goetz (SUI) 208 pts, 3. Woonseon Shin (KOR), 202 pts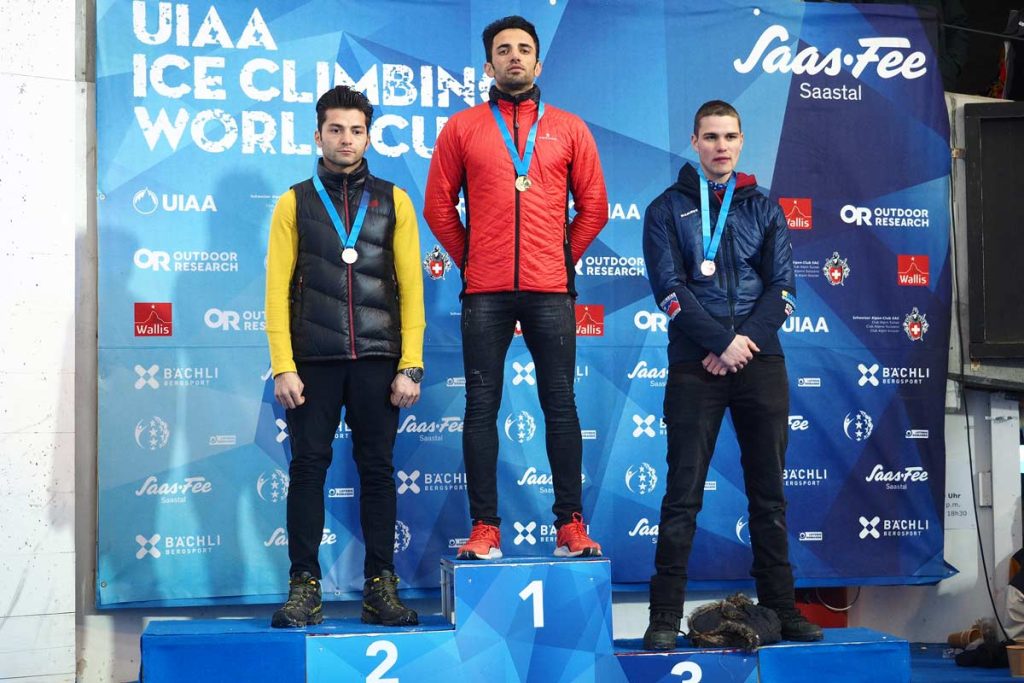 Men's Speed: 2022 UIAA Ice Climbing World Champion, Mohsen Beheshti Rad, took both the gold medal in Saas-Fee and the World Tour title. The Iranian led the standings by 29 points going into the final weekend. A best time of 7.60, achieved on his second of three climbs in the final, was enough for gold. Compatriot Mohammadreza Safdarian, current UIAA Ice Climbing World Champion in combined lead and speed, took silver (8.07) and Florian Gantner of Liechtenstein claimed bronze (8.61). In the World Title standings Myungwook Yang of South Korea hung on for second place despite a fourth in Saas-Fee with Safdarian rising to third.
Overall World Cup standings: 1. Mohsen Beheshti Rad (IRN), 280 points, 2. Myungwook Yang (KOR), 260 pts, 3. Mohammadreza Safdarian (IRN) 172 pts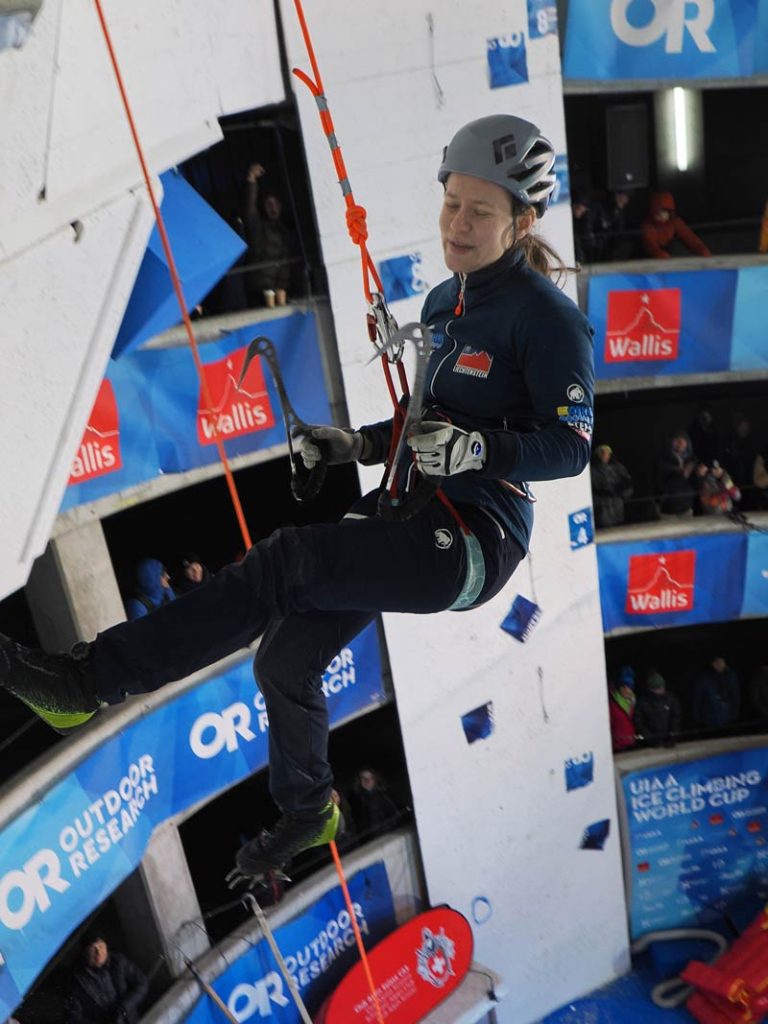 Womens's Speed: A stunning 15.65 second ascent by Liechtenstein's Lea Beck (above), competing in her first event this season, proved every bit a gold medal performance. Just out of the podium positions last weekend in Champagny-en-Vanoise Marion Salmon-Thomas took silver in 18.93 and at the same time rose to third place in the World Tour standings. Bronze in her home event earned Vivien Labarile the overall title ahead of Poland's Olga Kosek, seventh in Saas-Fee.
Overall World Cup standings: 1. Vivien Labarile (SUI), 212 points, 2. Olga Kosek (POL), 163 pts, 3. Marion Salmon-Thomas (FRA) 135 pts
A number of dignitaries supported the weekend's action including two Presidents of UIAA member associations – Magdalena Kast (La Federación Argentina de Ski y Andinismo) and Andy Syme (British Mountaineering Council and UIAA Ice Climbing Working Group member). Andreas Schweizer, Chairman of the Board of the Bern 2023 IFSC Sport Climbing World Championships, Swiss Alpine Club board member and former UIAA President Frits Vrijlandt also attended.
The UIAA thanks all of the organisers and recognises the impressive support by the Saas-Fee community and tourist board, the Canton du Valais, the Swiss federal sports authorities (Saas-Fee is now officially recognised and supported as the national Ice Climbing training hub), and the Swiss Alpine Club (SAC).
How to follow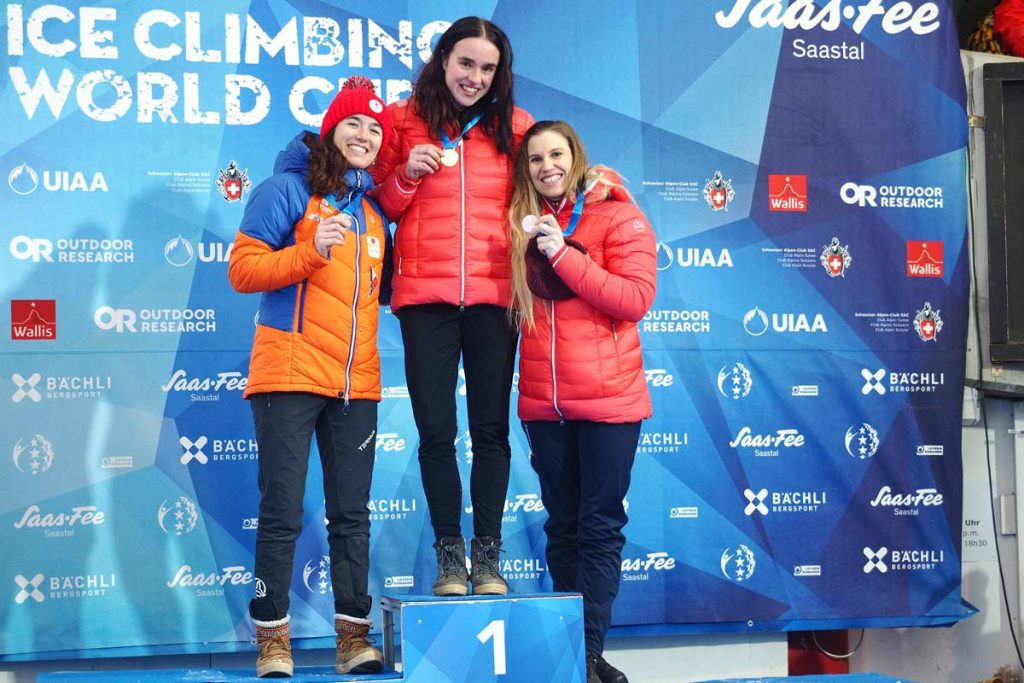 Photos from all events, cleared for editorial use, will be posted to the UIAA Flickr channel.
Results from Saas-Fee and other information can be found on the UIAA Ice Climbing website.
The next UIAA Ice Climbing event will be a European Cup competition held in Glasgow on Saturday 18 February.
All photos: Credit: UIAA/Kaspar Kellerhals
TITLE SPONSOR UIAA ICE CLIMBING WORLD TOUR