The unique ice climbing dome of Saas-Fee (1800m), Switzerland has the honour of closing the 2023 UIAA Ice Climbing World Cup season following events in Cheongsong (South Korea) and Champagny-en-Vanoise (France).
Over a hundred athletes from 19 countries are expected to take part. Action commences on Friday 27 January with qualification and then the Speed Finals (2000 local time). The Lead Semi-Finals (0845, women and 1300, men) and Lead Finals (1900 local time) will be held on Saturday 28 January. Livestreaming will be available on the UIAA YouTube and Facebook channels. Embed codes and links are available below. Subscribe to the UIAA YouTube channel for stream reminders. Check your local time here.
The event, organised in partnership with the Swiss Alpine Club and the host team, led by Kurt Arnold and Dario Andenmatten, has been a permanent feature of the UIAA Ice Climbing World Tour since the early 2000s. Last year it hosted the UIAA Ice Climbing World Championships and World Youth Championships. As explored in a recent article, the warmer temperatures in the Alps, especially in December and early January, have had an impact on the configuration of the ice climbing structure for the weekend.
Men's Lead: Louna Ladevant likes climbing in Saas-Fee. He won his world championship title in the Swiss Alps twelve months ago. In 2020, he sealed World Tour success at the venue. He will look for repeat performances in order to claim another World Tour crown (awarded to the athlete with the highest ranking after three World Cup events). Firstly he has to better the effort of South Korea's experienced Heeyong Park. Showing a real return to form this season, Park will hope to triumph in Switzerland for the first time since 2017. Louna's older brother Tristan is also in contention and from a high quality field the number of potential winners of the gold medal is significant. Switzerland's best hope of a home success may come from last weekend's silver medallist Benjamin Bosshard. Local knowledge often proves key.
Overall World Cup standings: 1. Heeyong Park (KOR) 165 points, 2. Louna Ladevant (FRA) 151 pts, 3. Tristan Ladevant (FRA), 120 pts
Women's Lead: Like Louna Ladevant, local favourite Petra Klingler will be confident given her past successes in Saas-Fee. She starts level on points with the outstanding South Korean athlete Woonseon Shin (main photo). Whoever performs better is likely to take the World Tour crown. While Klingler won the World Championship title in the Swiss Alps in 2022, Shin was World Cup gold medallist in 2019. Local interest will be significant with Switzerland bringing a strong team including perennial finalist Sina Goetz. Ireland's Eimir McSwiggan will hope for another impressive performance to retain her podium place.
Overall World Cup standings: 1. = Petra Klingler (SUI), Woonseon Shin (KOR), 180 points, 3. Eimir McSwiggan (IRL), 120 pts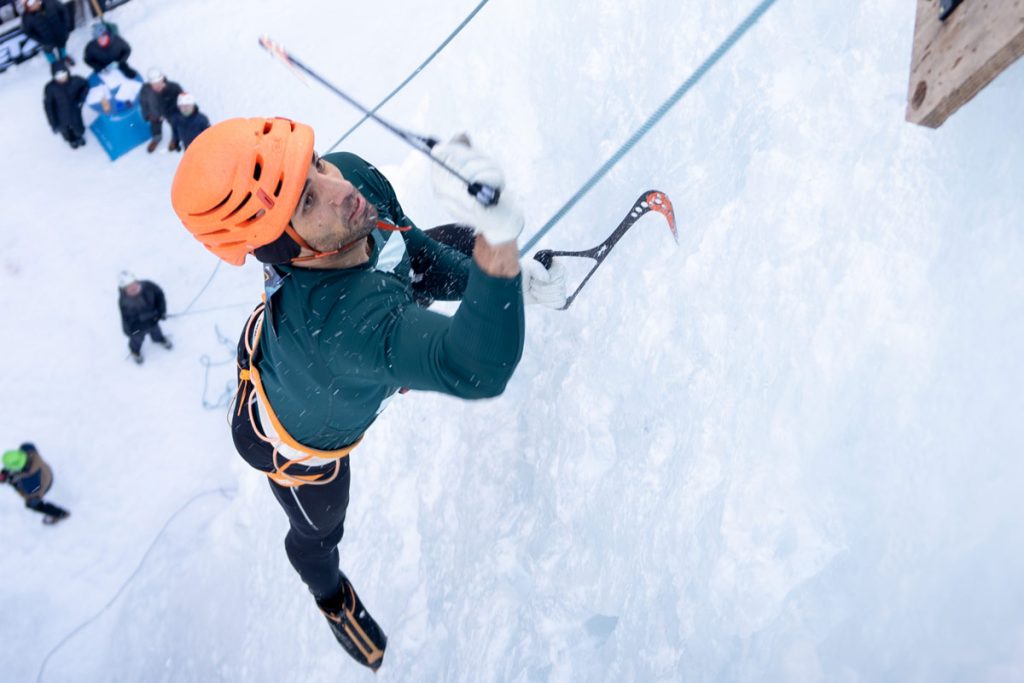 Men's Speed: Another 2022 Saas-Fee world champion, Mohsen Beheshti Rad of Iran, will start as World Tour leader and favourite. However, South Korea's Myungwook Yang has developed into a consistently fast speed climber and in Kherlen Nyamdoo and last weekend's bronze medallist Myungwook Yang, the Mongolian team are emerging as a significant force. Romania's David Bouffard is the other athlete to podium this season.
Overall World Cup standings: 1. Mohsen Beheshti Rad (IRN), 180 points, 2. Myungwook Yang (KOR), 151 pts, 3. Kherlen Nyamdoo (MGL) 91 pts
Women's Speed: The women's speed event is arguably the hardest to call. Vivien Labarile's epic last climb in Champagny last weekend propelled her to a first World Cup gold medal and top of the leaderboard. Having a Swiss athlete lead the standings will add to the traditionally electric atmosphere in Saas-Fee. Poland's Olga Kosek is her closest rival following a bronze and a fourth place this season. Marianne van der Steen of the Netherlands and Liechtenstein's Lorena Beck will also challenge both for a medal and to join the World Tour podium.
Overall World Cup standings: 1. Vivien Labarile (SUI), 147 points, Olga Kosek (POL), 120 pts, 3. Sughee Lee (KOR), 100 pts
How to follow
The semi-finals of all lead events, and speed finals, will be livestreamed on the UIAA YouTube channel and also broadcast on the UIAA Facebook channel. See links above.
Photos from all events, cleared for editorial use, will be posted to the UIAA Flickr channel.
The UIAA Ice Climbing Instagram channel will offer short-form video highlights and other enticing content throughout each competition weekend.
A press review from each UIAA Ice Climbing World Cup will be published after each event. Subscribe here to review news releases.
Live results & registration lists from Saas-Fee and other information can be found on the UIAA Ice Climbing website. The event programme is here.
The next UIAA Ice Climbing event will be a European Cup competition held in Glasgow on Saturday 18 February.
Main photo: Woonseon Shin climbs to lead gold at the 2023 UIAA Ice Climbing World Cup in Champagny-en-Vanoise. Credit: UIAA/Nils Paillard
TITLE SPONSOR UIAA ICE CLIMBING WORLD TOUR