A weekend to remember in Oulu, Finland closed the 2022-23 UIAA Ice Climbing World Tour, partnered by Outdoor Research.
Following three World Cups, four European Cups and a World Youth Championships, the biggest season since 2020 comes to an end. Organized in collaboration with the Finnish Climbing Association and the Climbing Club of Oulu, this weekend's event, in biting subzero temperatures, featured both the concluding round of the European Cup season and the World Youth Championships. Athletes from 18 countries competed.
A full review of the 2022-23 season will be published in due course.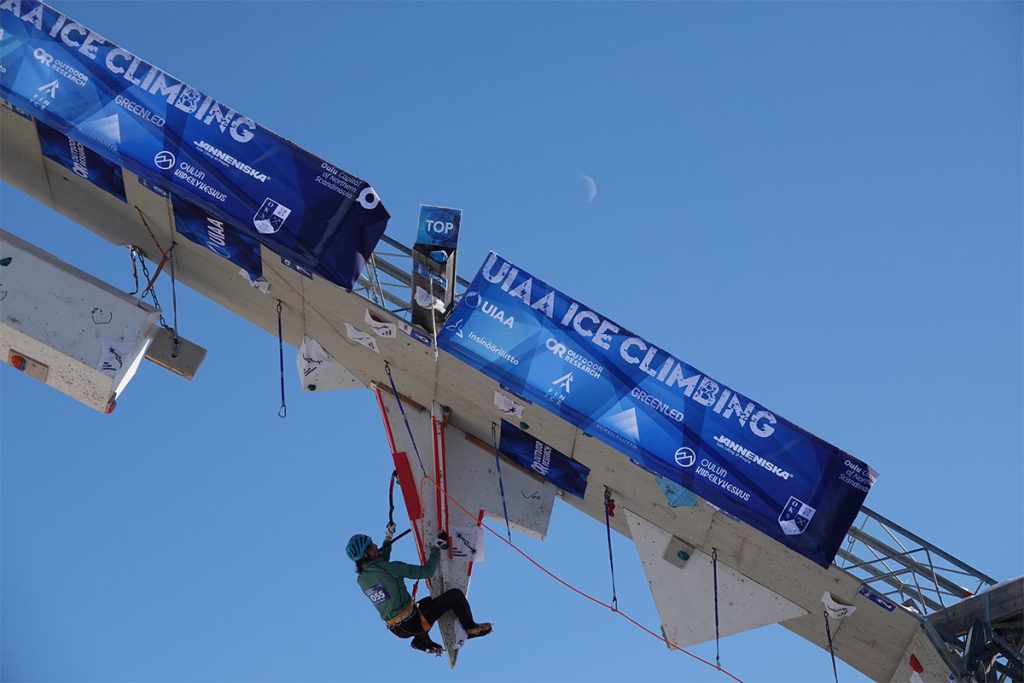 European Cup: The final round of the UIAA Ice Climbing European Cup season went to form. After three rounds in Slovakia, the Czech Republic and Scotland, Virgile Devin of France and Marianne van der Steen of the Netherlands lead the standings. They were the dominant athletes in Oulu and secured European Tour titles.
In the men's competition, Devin was the clear standout athlete, topping in qualification and then in the final climbing significantly higher than his rivals. Indeed he was just one clip away from topping the route. United States athlete Kevin Lindlau took second place and Dennis van Hoek third. With the scores adjusted for European-only athletes, van Hoek was upgraded to silver and Lichtenstein's Andreas Ganter the bronze. Van Hoek finishes the season in second place having podiumed at three of the four European Cup events.
van der Steen was almost certain of the European Tour crown ahead of the weekend in Oulu thanks to two golds and a silver in the three events held to date. The women's competition proved tighter than the men's with five athletes – van der Steen, Enni Bertling (Finland), Haruko Takeuchi (Japan), Mira Alhonsuo (Finland) and Celina Bosshard (Switzerland) all topping. It was van der Steen who proved the most nimble though, winning by 48 seconds. Olga Kosek (Poland) finished second in the European Tour with Anna Louzecka (Czech Republic) securing bronze. In Oulu, silver went to Bertling and Alhonsuo the bronze with scores reset for European athletes only.

U19 & U21 Lead Finals (including European Cup)
World Youth Championships: The annual World Youth Championships offer an opportunity for a significant number of the next generation of ice climbing talent to compete on the global stage for the first time. In Oulu, events were held in both lead and speed and across U16, U19 and U21 age groups.
Lead U21: Switzerland's Celina Bosshard took gold having topped the route. Caitlin Russell-Connor (Great Britain) and Johanna Tuuri (Finland) claimed silver and bronze. In the men's event, gold went to France's Milan Pellissier ahead of Hungary's Erno Robert Seregi and Spain's Henoc Garcia Montoya.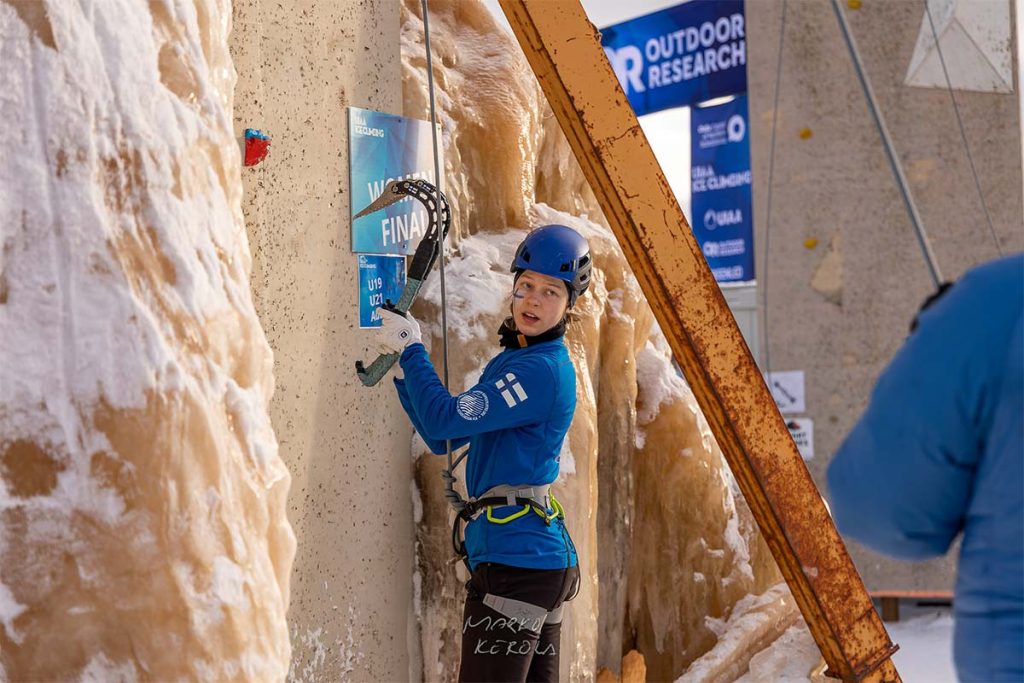 Speed U21: The same three female athletes contested the speed event with Russell-Connor's climb of 20.09 winning gold ahead of Bosshard (21.07) and Tuuri (27.31). With a time of 14.47, Seregi added a gold in speed to his silver in lead. Pellissier, 17.39, claimed men's silver and Finland's Lauri Tuppurainen, bronze.
Lead U19: Lichtenstein's Lorena Beck claimed gold. Already an elite level athlete, she saw off local climbers Tilda Kuikanvirta and Vilja Helin. In the men's competition, Jorge Veige Rodriguez of Spain claimed gold, reward for the Spanish federation's continued commitment to developing ice climbers. Tim Ziegler of Switzerland won silver and Lichtenstein's Konstantin Wille took bronze.
Speed U19: A World Cup medallist this season in Champagny-en-Vanoise, Beck (17.42) took gold in speed as well, the only athlete to win both disciplines. Lena Edith Dolf (22.24) of Switzerland won bronze and Kuikanvirta (28.07) claimed another medal with a bronze. Wille was another athlete to medal in both disciplines, dominating the speed event with a winning time of 11.93. Mongolia's Batzorig Munkhbaaatar (12.25) won silver and Ziegler claimed the bronze in a time of 14.03.
Lead U16: It was joy for the host country with 13-year old Lili Boijer-Spoof taking gold ahead of compatriot Lumi Pellikka. Maite Vila Lopez of Spain won bronze. 15-year old Robbie Gorn (GBR) won the men's lead climbing two seconds faster than the defending champion, USA's Landers Gaydosh. Suho Niho, Finland won bronze.
Speed U16: Pellikka won gold with a climb of 19.68 ahead of Boijer-Spoof. No other athletes completed their climb. Climbing in 14.36, Gaydosh won gold adding to his 2022 lead title from Saas-Fee. Switzerland's Lars Erik Dolf (14.61) won silver and Matyas Lienerth (16.31) secured the Czech Republic's only medal of the weekend, claiming bronze.

Speed Finals
Results are available here (European Cup , World Youth Championships). Full European Cup results can be found here – Men's, Women's.  Combined and Team Rankings available here.
Event website 
Photos from 2023 UIAA Ice Climbing European Cup in Oulu (Photo credit: UIAA/Jukka_Holappa or UIAA/Marko Kerola). Please visit full album here.
TITLE SPONSOR UIAA ICE CLIMBING WORLD TOUR