Freezing temperatures and a winter wonderland atmosphere provided the backdrop to the second UIAA Ice Climbing World Cup event of 2023, held in Champagny-en-Vanoise in the French Alps.
Following the season opener in South Korea, athletes were able to test themselves at one of Europe's most impressive ice climbing venues. The event, organised in partnership with the la Fédération Française des clubs alpins et de montagne (FFCAM) and La Plagne resort, also included the European Championships.
Men's Lead: Louna returns to form
At his home World Cup, Louna Ladevant was on a mission to impress. In Cheongsong, luggage delays forced the French world champion to borrow equipment and an issue with his ice pick led to a costly slip in the final resulting in the 22-year old finishing outside of the podium positions.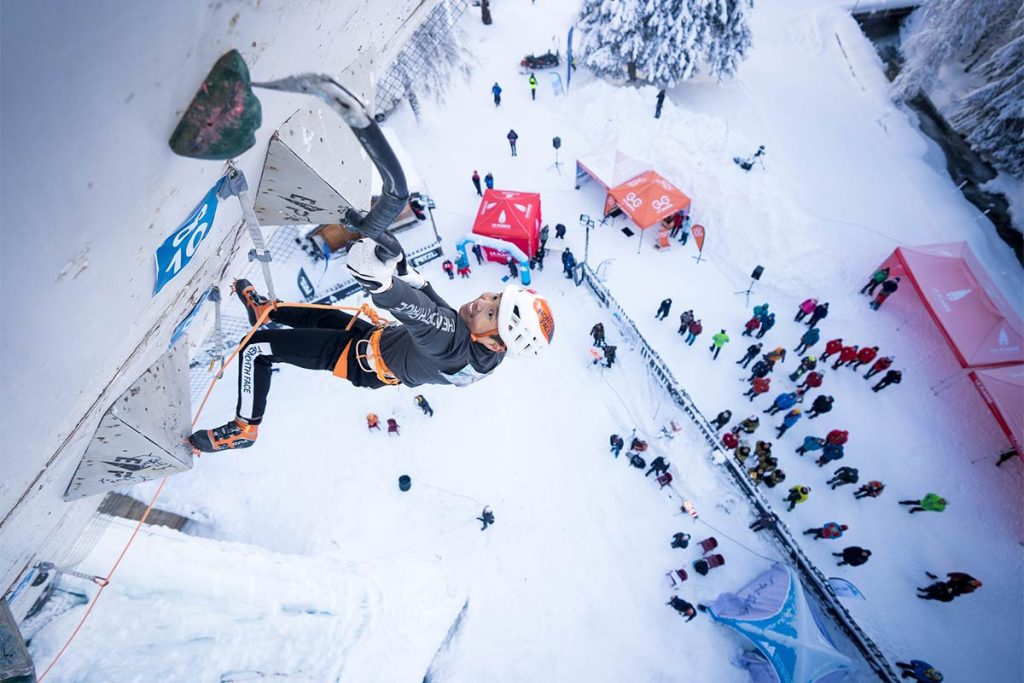 In Champagny, rival athletes Benjamin Bosshard of Switzerland and Cheongsong gold medallist Heeyong Park (photo above) both topped the final route. As last athlete to climb and given fantastic home support, Ladevant ascended with speed, aggression and a steely purpose to top the route in 5:30, 45 seconds faster than Bosshard. It is a victory which puts him into second place in the overall standings setting up an epic contest against Park in Saas-Fee, a venue where both athletes have won World Cup gold medals.
Round 2: 1. Louna Ladevant (FRA), 2. Benjamin Bosshard (SUI), 3. Heeyong Park (KOR)
Overall World Cup standings: 1. Heeyong Park (KOR) 165 points, 2. Louna Ladevant (FRA) 151 pts, 3. Tristan Ladevant (FRA), 120 pts
Women's Lead: Another great rivalry
The women's competition is set to go down to a dramatic finish in Saas-Fee next weekend with Switzerland's Petra Klingler and South Korea's Woonseon Shin tied on 180 points with a gold and a silver medal apiece. Klingler took a dominant gold in round 1 in Cheongsong but it looked for a while like it was going to be very different in France. A costly and uncharacteristic fall in the semi-finals jeopardised the Swiss athlete's place in the final. Ultimately she was able to qualify as one of the eight finalists by the narrowest of margins.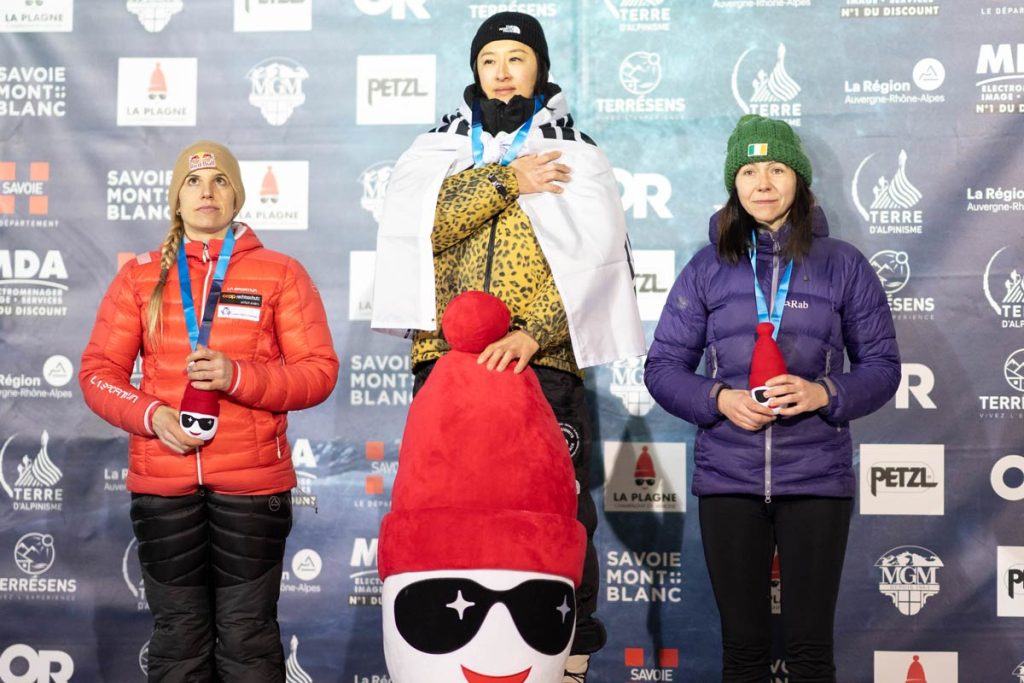 As the lowest scoring qualifier she climbed first in the final and put the disappointment of the previous day behind her setting an impressive benchmark, just one quickdraw away from the top. Klingler's teammate Sina Goetz did top the route before being penalised for encroaching into an out of bounds area. It left the final climber, Woonseon Shin, with the task of topping the route to take the gold. Offering a typically nimble and graceful performance, Shin made short work of the route reaching the top with 91 seconds to spare. Ireland's Eimir McSwiggan won bronze to also now sit third in the overall standings.
Round 2: 1. Woonseon Shin (KOR), 2. Petra Klingler (SUI), 3. Eimir McSwiggan (IRL)
Overall World Cup standings: 1. = Petra Klingler (SUI), Woonseon Shin (KOR), 180 points, 3. Eimir McSwiggan (IRL), 120 pts
Men's Speed: First gold for South Korea
Last weekend South Korea enjoyed success in the women's speed competition. In Champagny, the country won its first men's speed World Cup gold. Myungwook Yan, fifth in Cheonsgong, prevailed with a time of 6.93 seconds in the three-climb, athlete versus clock format. World champion Mohsen Beheshti Rad, gold medallist in South Korea, finished second in a time of 6.98. Mongolia took a second speed medal of the World Cup season with Mandakhbayar Chuluunbaatar clocking a 7.21 seconds to take bronze. Going into the final round in Switzerland, Beheshti Rad leads the standings with Yang his only likely threat to winning the overall World Cup title.
Round 2: 1. Myungwook Yang (KOR), 2. Mohsen Beheshti Rad (IRN), 3. Mandakhbayar Chuluunbaatar (MGL)
Overall World Cup standings: 1. Mohsen Beheshti Rad (IRN), 180 points, 2. Myungwook Yang (KOR), 151 pts, 3. Kherlen Nyamdoo (MGL) 91 pts
Women's Speed: European domination
South Korea's Sughee Lee, winner of round 1, did not travel to France ensuring round 2 would have a different gold medal winner. On the final of her three climbs, Switzerland's Vivien Labarile, sixth in Cheongsong, shot up the ice structure like a rocket to clock a momentous 12.01 seconds. Another athlete, Olga Kosek of Poland saved her best for last. A final climb of 13.93 seconds earned bronze. Liechtenstein's Lorena Beck had led the competition with a time of 13.75 seconds on her second climb, ultimately earning a silver. Labarile, Tour leader, will hope for a repeat gold in her home World Cup in Saas-Fee next weekend.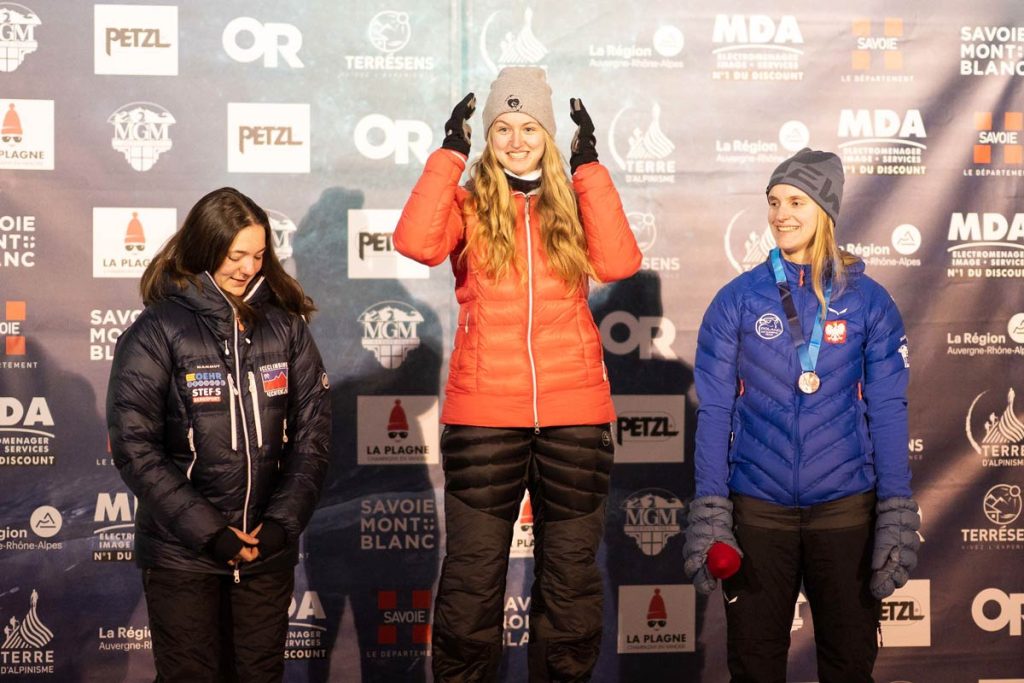 Round 2: 1. Vivien Labarile (SUI), 2. Lorena Beck (LIE), 3. Olga Kosek (POL)
Overall World Cup standings: 1. Vivien Labarile (SUI), 147 points, Olga Kosek (POL), 120 pts, 3. Sughee Lee, 100 pts
European Championships Results
Men's Lead – Women's Lead – Men's Speed – Women's Speed
How to follow
The semi-finals of all lead events, and speed finals, are livestreamed on the UIAA YouTube channel and also broadcast on the UIAA Facebook channel.
Photos from all events, cleared for editorial use, are available on the UIAA Flickr channel.
The UIAA Ice Climbing Instagram channel will offer short-form video highlights and other enticing content throughout each competition weekend.
A press review from each UIAA Ice Climbing World Cup will be published after each event. Subscribe here to review news releases.
Results (including European Championships) & registration lists from Champagny-en-Vanoise and other information can be found on the UIAA Ice Climbing website.
The third and final event of the World Cup season will be held from the 26-28 January in Saas-Fee, Switzerland.
Photos: 2023 UIAA Ice Climbing World Cup in Champagny-en-Vanoise. Credit: UIAA/Nils Paillard
TITLE SPONSOR UIAA ICE CLIMBING WORLD TOUR