The UIAA Ice Climbing Commission is responsible for framing the rules and regulations for ice climbing competitions. The commission also ensures quality of the competitions as per UIAA terms and standards and is responsible for the administration and development aspects of ice climbing as sport. It has helped organise the UIAA Ice Climbing World Tour competitions since 2004. The Commission has also been involved in making rules for these competitions simpler and fairer to encourage greater participation in the sport. To ensure athlete's voices are part of the decision-making process, as of 2019 Commission membership includes athlete representation.
As part of its development activities the commission organises courses for routesetters and judges. These technical courses help the aspirant judges and route setters learn more about the latest rules and innovations in the sport.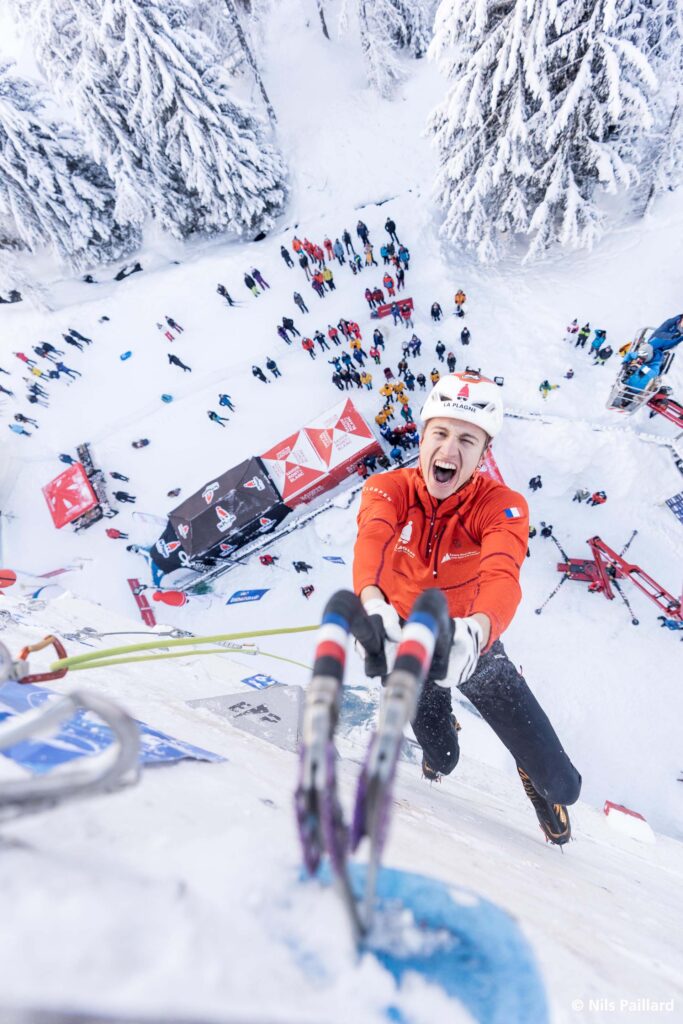 Ice Climbing
Commission Membership
As confirmed by the UIAA Management Committee (October 2021)
Carlos TEIXEIRA, Portugal (FCMP),
President
Pavel SHABALIN, Russia (RMF),
Vice President
David DORNIAN, Canada (AAC)
Mohammad HAVALEDAR, Iran (IMSCF)
Byeong  GOO KIM, Korea (KAF)
Andrej PECJAK, Slovenia (PZS)
Nadezhda LAUNITS, Russia (RMF)
Markus HUHTALA, Finland (FCA)
Nejat AKINCI, Turkey (TDF)
Zdrqavko DEJANOVIKJ,
North Macedonia (FPSM)
Benjamin GIGER, Liechtenstein (LAV)
Min GYUHYOUNG,
Korea (KAF)
Luc THIBAL, France (FFCAM)
Ziga STER, Slovenia (PZS)
Bishnu TAMANG, Nepal (NMA)
Kendra STRITCH, United States (AAC)
Prerna DANGI, India (IMF)
Farzam DAYYANI, Iran (IMSCF)
Mahdi SAMEI, Iran (IMSCF)
Go YAMAZAKI, Japan (JMSCA)
Arezoo ZARBEHI, Iran (IMSCF)
Kęstutis SKRUPSKELIS, Lithuania (LMA)
Eimir MCSWIGGAN, Ireland, (MI) – Voting Member
Nikolay PRIMEROV, Russia (RMF) – Corresponding Member
Enni BERTLING, Finland (FCA) – Corresponding Member
Maria TOLOKONINA, Russia (RMF) – Corresponding Member
Mohammad Reza SAFDARIAN, Iran (IMSCF) – Corresponding Member

At a UIAA Office level, daily managament of the UIAA Ice Climbing World tour is spearheaded by Rob Adie, Sports Event Coordinator and Nils Glatthard, Director of Operations. The office is also responsible for the communication of the sport and liaising with companies providing livestreaming and the live results service.
Route-setters are key to any international competition or national selection. They are in charge of setting the routes where athletes will climb. Together with the judges, they are also in charge of the safety of climbers during their ascent.
Judges are key personnel in charge of the respect of the sports rules and overseeing the final results. If the national body already has their skilled judges, the UIAA encourages working with them. Otherwise, the UIAA provides training courses to become recognised UIAA international judges. These people are skilled to judge at international events such as World Cups or World Championships. They can also judge on a lower rank of competition: national and regional. If there is no judge available in the country, the team manager can contact the UIAA, or directly contact an international judge, in order to provide a judge for the host country's event.
SIGN UP FOR
OUR NEWSLETTER